Kaspa's is very popular with teenagers so not our usual haunt. But a grandchild off school in need of a milkshake meant we had to go to the place with the most choice. Here you can get a milkshake made exactly as you want it from the huge variety of ice cream flavours and sweets in stock.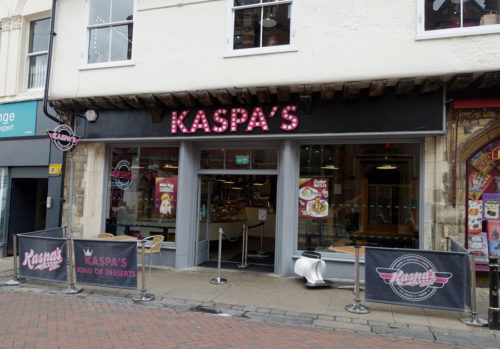 The menu is huge. There are cakes, puddings, waffles, sundaes and you can even get an old fashioned knickerbocker glory.
You can go all out for a birthday and pay £27.50 for a giant platter of waffles and fifteen scoops of ice cream!
Perfect location right in the middle of town.
The helpful waiter was very nice.
Lots of seats upstairs.
The coffee was good, we had mochas, they were incredibly sweet.
The food is mostly waffles and ice cream covered in sauces and sweets.
The toilet was clean.
Verdict
Strictly for the kids but a nice place if you can cope with all that sugar.