Skinny Kitchen is in St. Peters Street right in the middle of Canterbury.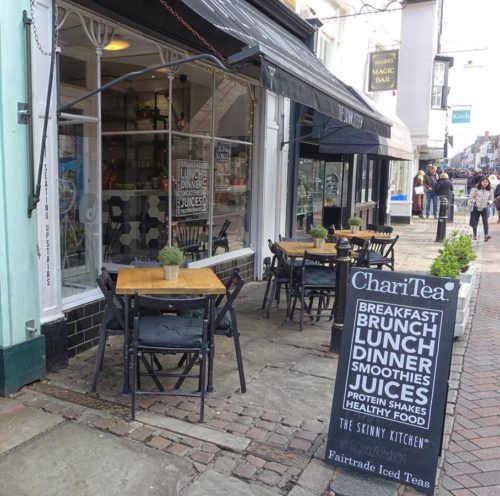 Every  meal has a calorie count but none of them are too high!
Skinny Kitchen is big on breakfast and brunch, both are available all day and the full English delivered to the next table looked amazing. We ordered organic  flat whites which came quickly and was the best coffee I've had for several weeks. Then we had to wait a long time for our brunch but it was obviously cooked to order and very fresh. While we waited we looked around at the clientele. They did mostly  look as if they were vegan(quite possibly an unreasonable assumption)  but we didn't feel out of place as the service was very friendly and my fur coat is very obviously fake.
We ordered a sweet potato cake with egg and rocket and, on the day that KFC had no chicken, a chicken burger. The burger had pickled vegetables and the ultra  trendy sriracha sauce. I only know this is trendy  by asking Google. Both were excellent and tasted home cooked.
Excellent location in the middle of town.
The service was helpful and friendly.
Plenty of seating with extra upstairs.
The coffee was excellent.
The food was very tasty.
The prices are reasonable.
the toilets are clean.
Verdict
A huge choice of drinks and lots of freshly cooked food. We managed to find lots to eat without having to resort to a kale smoothie. This place is highly recommended and even if we only have one of their excellent coffees we will go back.