Lucerne is in the German speaking part of Switzerland but luckily for the language challenged Brits, as they do in so many countries,  they all speak English. Other parts of the country speak Italian, French or Romansh which  is not an official language and only spoken in a few mountain valleys. So in the shop labels are in three languages meaning, even without help, bad french and guessing get you what you need.
Lucerne is a lovely small city with an old town famous for two things – The Dying Lion and the Chapel bridge.
The Chapel Bridge
The bridge was built in 1333 but rebuilt after a fire in 1993. It crosses the Reuss river  joining the old and new towns. This covered wooden footbridge is 670 feet long and  has an octagonal watch tower. as you walk across it you see the painted triangular roof panels showing events from Swiss history.
The Dying Lion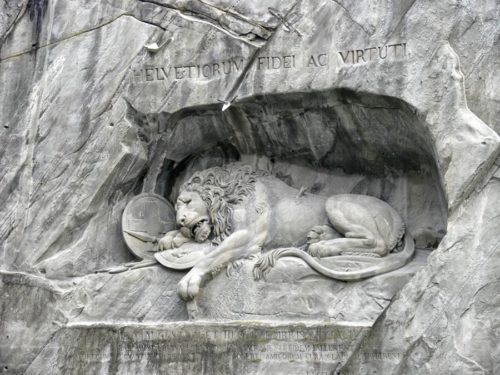 The lion carved into rock remembers the Swiss Guards killed in 1792 defending Louis XVI during the French revolution.Its ten metres long and attracts lots of tourist photographers. Next to it is the amazing Glacier Garden. Covered in something that looks like the Ashford Outlet here are glacial potholes from the ice age 20,000 years ago and large fossils displayed along a a kind of folksy  walk way.
Then as a complete contrast you arrive at the Alhambra mirror maze. Ninety mirrors were made into a maze in 1896 for the national fair in Geneva and its still puzzling and fun now. Its very easy to bump into the mirrors.
As if that wasn't enough weirdness you get to the last attraction, a museum inside a Swiss chalet. This has geography , geology, history and a bit of several other things all in together.
I expected Switzerland to be clean, organised and rich, didn't expect it to also be a bit weird.