Switzerland brings to mind mountains, snow, woodcarving and fondue so we set out to find them all in the short time we had in the country.
A Train in the Snow
Snow and mountains go together so  despite the freezing cold  so we took a trip on the Wengernalp railway. This runs from Lauterbrunnen to Grindelwald via Wengen and the steep nineteen kilometres take just thirty-three minutes. Of course there are stations to stop on the way if you like. The scenery here   is like a fairy tale as you pass trees covered in snow and travel up the mountain.
There is skiing for beginners and snowboarding or dog sledging if you're feeling energetic  but we just sat in the sunshine well wrapped up watching everyone else while we had hot drinks.
Brienz
Brienz is a famous woodcarving village – it even has a woodcarving museum! They have been selling carved bears, music boxes, and cuckoo clocks to tourists for two hundred years. In the nineteenth century 2,000 people were employed making mostly carvings of domestic animals and human figures. Nowadays you can still see woodcarvers working in the town.
The village itself is charming, there is a lake surrounded by trees  to walk by and even the houses are picture book chalets. They have heavy wooden balconies and traditional overhanging roofs. Each is individually decorated so they are all unique.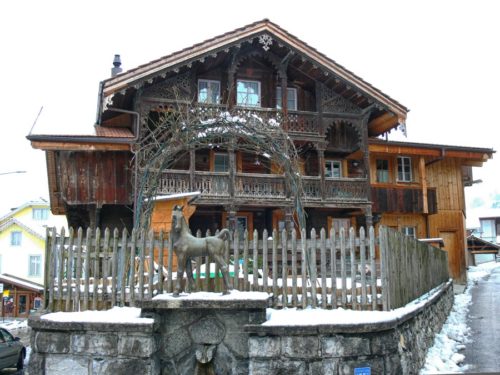 Fondue
If you're as old as me you will remember the '60's when fondue sets were on wedding present lists and sharing a  fondue pot was trendy. Why doesn't someone bring them back?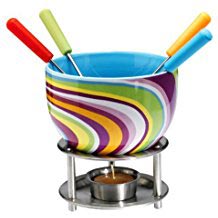 They have – just found this on Amazon!
I had forgotten how delicious they were. The traditional Swiss mix is Gruyere and Freiburger Vacherin  with a little wine. This makes a lovely soft but not stringy warm pot of cheese to dip bread squares in.
The little heater underneath keeps it warm so you can sit in a cafe watching the world go by slowly eating warm cheese- perfect.