Montenegro's capital is Podgorica but the tourists head for the beaches, mountains, medieval villages and five star coastal hotels.
Sveti Stefan
Sveti Stefan is the famous luxury hotel complex that all the tourists photograph and then move on. It is the most photographed sight in Montenegro and it does look amazingly fabulous.
The cheapest room is  850 euros a night so we'll add that to the come back when we've won the lottery list ( long list with Raffles in Singapore at the top!)This fortified island village of fifteenth century stone villas is connected to the mainland by a causeway. It was nationalised in the 1950's but now it is part of a luxury hotel chain.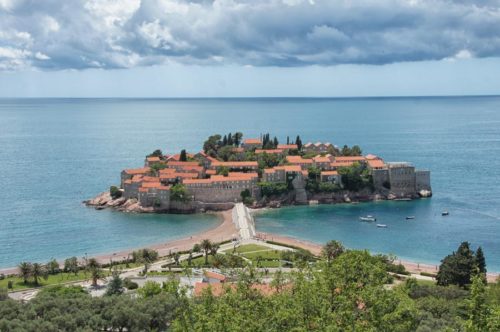 But the real sights of this tiny country are the coastline and the old towns.
Budva
Stone walls surround the old town which was damaged by an earthquake in 1979 but has been reconstructed. The cobbled streets are lovely but really this place is for beach tourists. The pebble beach is completely covered in beach umbrellas and you have to arrive early to get a space. The shops are full of tourist junk and buckets and spades. Lots of  cheap take a way food is available and we saw lots of advertising for the local night life.
Kotor
Kotor is a completely different story. In its own bay and surrounded by mountains the main  gate, the Sea Gate of 1555 is on the coast road.
The huge city walls windup into the mountains.  You can walk up but its very steep and a long walk, covering  four and a half kilometres of steep steps, many of them broken. We wandered around inside the walls through the narrow streets and squares built between the twelfth and fourteenth century and UNESCO protected.
You don't have to look for any special sights just wander the streets and get a coffee in one of the many little cafes with outside seating.