The Jardim Botanico
I do love a botanical garden. JP has been frogmarched escorted round gardens all over the world. He is even beginning to know the names of some of the specimens.
The garden is behind Ipanema beach and part of Nijuca National park. Originally it was reserved for the aristocracy but now tourists and locals can enjoy the plants and beautiful fountains. It  contains the  impressive Avenue of Palms – a 700 yard walkway   of 40 feet high  royal palms. There are also over a thousand orchids, some of them very rare, in the orchid conservatory.
Rio's Most Iconic Sight
From the garden we had glimpsed Corcovado, the mountain with Christ the Redeemer on the top. Now it was time to see it close up. This huge statue of Christ was designed by Heitor da Silva Costa, the  winning design for a statue to represent the spirit of Rio. The figure is carved from gigantic blocks of sandstone. It really does feel like you have seen on of the major tourist attractions of the world.
The Trem do Corcovado takes you to the summit.
If that wasn't enough mountain next you can go up Sugar Loaf.  The highest point in Rio. You can take a rock climbing tour but for the aged a walk around the paths on the summit is perfect.
There are so many places to stop with  stunning views.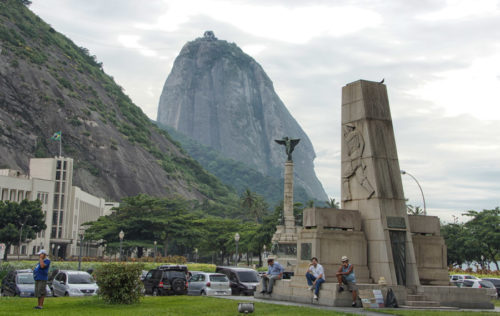 Views From the Top
Magnificent views looking over Rio and looking down on the small aircraft landing and taking off.
An exhausting days sightseeing. Tomorrow may be a day for the beach –  there's plenty of choice!
But now for a Caipirinha. Brazil's national spirit, Cachaca, made from fermented sugar cane mixed with sugar and lime.
And relax.