There are several great towns not far from Carcassonne. The advantage of Avignon is you pass the Pont Du Gard on the way
Pont Du Gard
This UNESCO site is the most visited ancient monument in France. The highest and best preserved Roman aqueduct The Pont Du Gard itself was built to allow the 50 km long Nimes aqueduct to cross the river Gardon. Built on three levels  of arches after the collapse of the Roman empire it was used as a toll bridge then a road bridge so its upkeep was continued. It soon became a tourist attraction so in 2000 the site was renovated, the traffic was removed and a visitor centre was built. Its also very popular with locals for picnicking, sunbathing and boating. This is an impressive and awe inspiring place and was one of the highlights of our week in Southern France.
Avignon
Avignon is a nice enough town most famous for its historic  centre with the Popes Palace in Popes Square and the famous bridge.  We were very grateful to be able to take the tourist train round the town as it was so hot. After our trip around the town a cooling drink in a cafe seemed much more attractive than plodding the streets but we did make sure we saw the famous bridge.
The Saint Benezet Bridge is the Pont D'Avignon. There are only four of is original twenty two arches left. In the middle ages it was part of an important pilgrimage route. It has been damaged and repaired many times and now only reaches part of the way across the river. Nowadays everyone knows through the famous  nursery song
Sur le pont d'Avignon
On y danse, on y danse
Sur le pont d'Avignon
On y danse tout en rond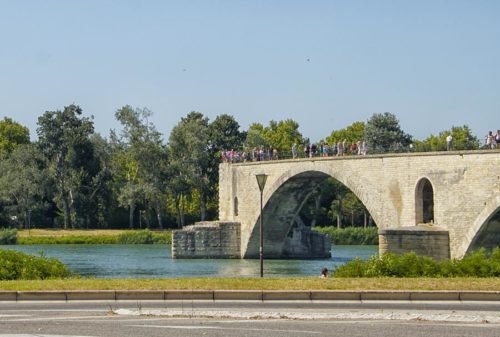 Although apparently people probably only danced under it as its not wide enough for dancing in circles – and you'd probably fall of the end!